Architecture and interior design have a profound impact on our daily lives and how we experience the world. Good design is so much more than creating a good-looking product. It is about creating a positive experience for users at every touchpoint and with every interaction. It's about creating spaces that influence the way we think, the way we feel, and our decisions. That being said, there has been an increased focus on how design impacts the way we learn. From the early stages of learning in primary school to high school and beyond, architects and interior designers have the power to improve our educational experience and learning outcomes.
In this blog, we will take a look at some of the design strategies being used in education design and highlight a few projects that have done it just right.
Influential Considerations: 
Interior design for the learning space now provides much more consideration for the student, providing the optimal setting not just for academic achievement but also for social edification. To maximize learning potential, Lennie Scott-Webber, former head of the Department of Interior Design & Fashion at Radford University, says we should create a space that can become the catalyst for change.
"When you open the door to a space, does it give you permission to act differently other than to be behaviorally conditioned to 'sit and sit' or 'stand and deliver? If the space doesn't permit change, then it's too easy to revert to what we know," Scott-Webber says.
So what does an adequate learning space look like? While there's no single classroom design that works for all, a few basic tenets apply.
To start, we see more curvilinear design, open-plan, flexible spaces, and high ceilings. According to recent studies at the University of Toronto Scarborough, a part of the brain's core emotion network is activated when viewing rooms with a curvilinear design. They were regarded as beautiful and pleasant. Rooms with high ceilings, on the other hand, stimulated "visuospatial exploration"; that is, they made people pay more attention. These factors improve the overall emotional and psychological wellbeing of students and thus enhance their willingness and ability to learn and retain information.
Flexible classroom designs allow learners to make choices, experiment with learning techniques, and ultimately discover how they learn best. A flexible classroom layout also supplies teachers with a greater capacity to effectively respond to different students' learning needs. Flexible classrooms usually incorporate some group discussion areas, various seating options, and a flexible space, which can be adjusted for many specialised activities. With the central goal of providing the space for students to explore, share, and create collaboratively, flexible classroom arrangements offer the means for a variety of group set-ups and lesson formats to address all students' needs.
It is no surprise that natural light and connection to nature are also among the most important design elements for improving the educational design. In a rigorous study involving 21,000 students, it was found that those who studied in "classrooms with more natural light scored as much as 25 percent higher on standardized tests than other students in the same school district." It supported anecdotal evidence that architects had been citing all along: "Children learn better under illumination from skylights or windows, rather than bulbs."
Australian Schools That Are Doing It Right:
Ruyton Girls' School by Woods Bagot 
Woods Bagot has designed a new education facility for one of Melbourne's preeminent girl's schools, Ruyton Girls' School, transforming the site into a dynamic offering for students and staff. The design sees a move away from traditional classroom planning framework where desks are lined in rows and a teacher educates from the front, to a model that prioritises natural light, flexible furniture and technology-enabled teaching and learning spaces for task-based, student-centred flexible learning.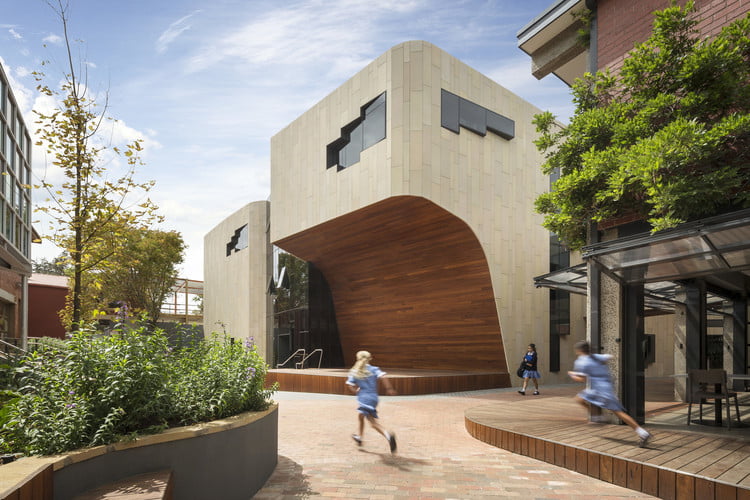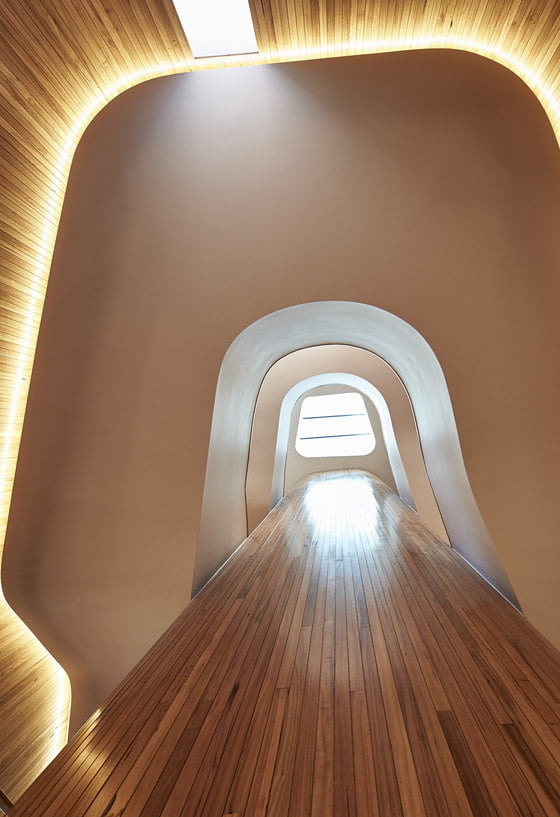 With a clear focus on personalised learning, the school's approach exemplifies the shift towards student-centered learning where collaboration, creativity, and critical thinking are all essential components. Architecturally the structure has a softness to the form as well as materiality. There are two wings to the building that have been designed with fluidity around a main breakout space in the courtyard and a tennis court on the east wing of the building. This school is a beautiful example of how the connection to nature, flexible learning, and curvilinear architecture can come together to create the ultimate learning environment.
St. Aiden's Campus Link by Cox Architecture
St Aidan's The Link is an Innovation and Design Hub that transforms an existing arts precinct constructed in the 1960s to meet the needs of current pedagogy. The Link provides new learning spaces which facilitate subjects to encourage design-led thinking and entrepreneurial skills critical to students in their future career paths.
The brief placed a strong focus on wellness and student-centered education, which were translated into diverse and flexible spaces. The savings made by re-using the existing structure were spent creating memorable courtyard spaces to support informal and formal learning and play. Existing solid classroom walls and high-level windows were replaced with full height glazing and louvers to increase transparency and cross ventilation between the street and building, through to the classrooms and courtyards.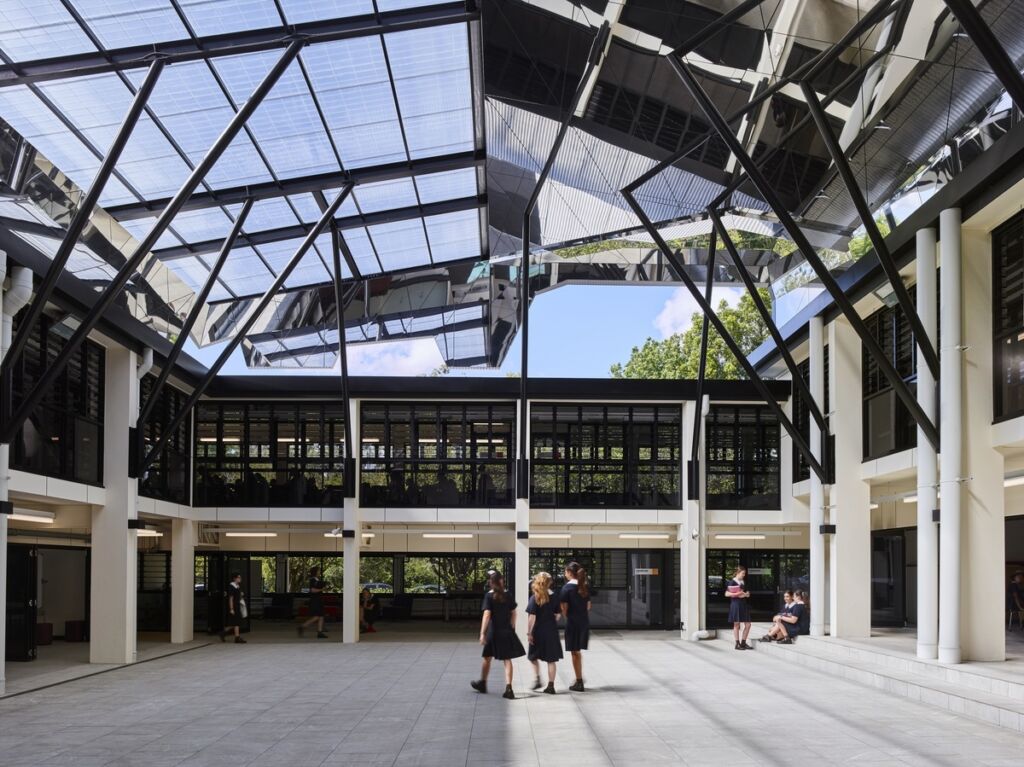 The ground floor workshops are flexible learning spaces that were designed to encourage collaboration amongst students. Folding doors open up the workshops onto both courtyards and encourage classes to spill into the landscape for group-based learning. The courtyards also serve as an exhibition and gathering space for events. Timber nests cantilevered from the existing corridors create opportunities for small group or personalised learning and offer a place where students can take a break from the intensity of the classroom.
Promoting collaboration and autonomy in the classroom is a clear trend evolving in the educational sector. Designing flexible, open-plan spaces that foster these connections is just one way to inspire students' evolution and curiosity and improve their overall education experience. In addition, allowing for breakout spaces and flexible outdoor courtyards help to prompt creativity and increase morale, which is another crucial element when designing an impactful educational environment. We hope that taking tips from these insights and designs will help inspire your next educational design project.