Recently I had the pleasure of chatting with Steelcase's Business Development Manager, Ashley Jane Casey about where workplaces are heading. This vibrant woman combines boundless energy and enthusiasm with a vast knowledge of innovative product design and workspaces (and she is hysterically funny). Steelcase is a world leader in ground-breaking office products and has several incredible collaborative partnerships with leading companies, including Microsoft. They have always been at the forefront of responding positively to workplace needs and this has undoubtedly boded them well during this COVID-19 situation.
I took the opportunity to pick Ashley's brains about the current situation and where we are heading. Her key message was when talking about office solutions, there is no one size fits all (unlike the very popular elasticized pants many of us are wearing!). "This looks different for everybody. Just as companies and their type of work vary, so do their workplaces". She has seen some organizations that have had to change very little, while others are struggling to provide for their employees. One thing she is sure of is that "change is happening, the only difference is if you are in control or not".
Ashley firmly believes we need to lose the antiquated mindset that workers must be in the office to be efficient. We are seeing many people working just as well from home, if not more so due to reduced distractions (unless you are sharing your space with a child, partner and various pets). Flexible work options certainly look like it is here to stay so Ashley is adamant that technology is vital, focusing on improving the experience for the people working remotely. She passionately believes that there should be an "equal experience for everyone".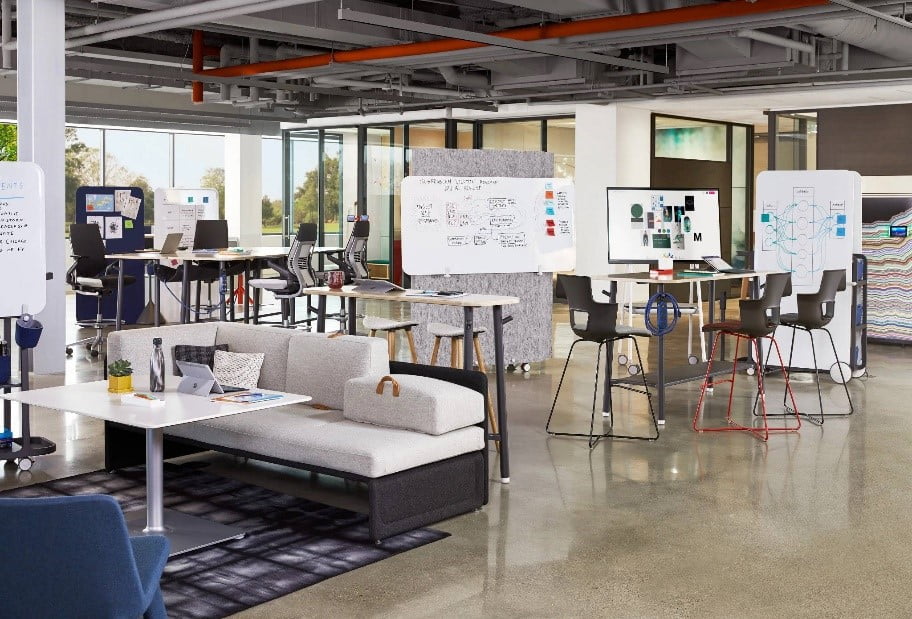 Large scale technology already exists (like Microsoft's Surface Hub system) where people can interact by sharing the screen with those working from home. Those not physically present are even able to take control of the whiteboard to sketch and present ideas. Being able to clearly read their facial expressions and body language is especially important (pants are not optional!).
She believes that now more than ever, we must make a compelling reason for people to come back into the office. "While the majority of focus work could be done at home, many of us still have a need to come together to share ideas and enjoy a sense of community. We need to work hard to make collaborative spaces the best they can be". Many studies have found that collaboration is a key factor in a company's success, and while any form of teamwork can improve quality and speed, organized workplace collaboration can heighten overall productivity even more (especially if cake is involved!).
But what about social distancing? While signage will be important, Ashley is concerned that we risk elevating anxiety or even waning attention due to signage overload. Her absolute pearl of wisdom is "Let the space drive behaviour"…GOLD! What she means is to set up the office so that it dictates the safety requirements of the space (AKA behaviour nudging). It may be as simple as taking a cushion off a seat, removing furniture out of a meeting room so stand-up sessions can occur, or relocating furniture like lockers, tambours, and plants to create negative space. (We say a big YES PLEASE to this so we can indulge our ongoing love affair with mobile furniture). Think furniture on wheels, desks on pivots and mobile power sources (all available now). She even suggested making use of mobile meeting pods. So rather than lining them up like porta loos at a musical festival (ahh..memories), they could be arranged to act as screens and partitions. Additionally, pods with free furniture are a winner as they can be used as a space for one. The important thing is that we still want places to be welcoming and inviting and allow teams to come together but we want it to happen safely.
One of the most significant upswings in Ashley's opinion is the focus on wellbeing. "That's the dial we want to make sure doesn't get turned down". She has seen loads of companies that are doing well, and they are the ones who have always been focused on wellbeing. "Maybe the positive is that other organizations are going to have to keep up". A big plus for everyone.
She feels it is vital to document what is working so we can decide what we want to keep and what we need to lose. Ashley implores that we don't make the conversation we are having a waste of time, not that any conversation with this bubbly individual could ever be considered that!
With that thought echoing in my head, I finished our chat feeling more inspired than ever to make the best of what works now and keep moving forward, learning and growing on the way. It's time to take workplace design up to another level – while socially distancing and washing our hands of course!