This is one thing that can't be put off or ignored. So, let's have the conversation…
Working from home can mean some big changes (your hair and wardrobe choices for instance) but some things remain the same. One is the mutual obligations of employers and employees regarding a safe work environment.
SO, HOW DOES THIS WORK FROM AN EMPLOYER'S POINT OF VIEW?
Employers have a duty under both industrial relations and work health and safety laws to ensure employees can work safely at home. These duties apply to both physical and mental health.
There are ways to minimise risks in an employee's home, and while it may be different to what is done at the usual workplace, it should include:
providing guidance on what is a safe home office environment – including what a good workstation set up looks like and why employees should not be sitting for long periods of time (in the immortal words of James Brown "Get on Up"!),
getting employees acquainted with and complying with good ergonomic practices (more on that below),
allowing employees to borrow any necessary workstation equipment from the office (is the kick-ass coffee machine necessary….we say YES!)
maintaining regular communication with employees – including touching base to ask, "Are you ok?",
providing access to information and support for mental health and wellbeing services, and
appointing a contact person who employees feel comfortable with to reach out and talk freely and openly about any concerns.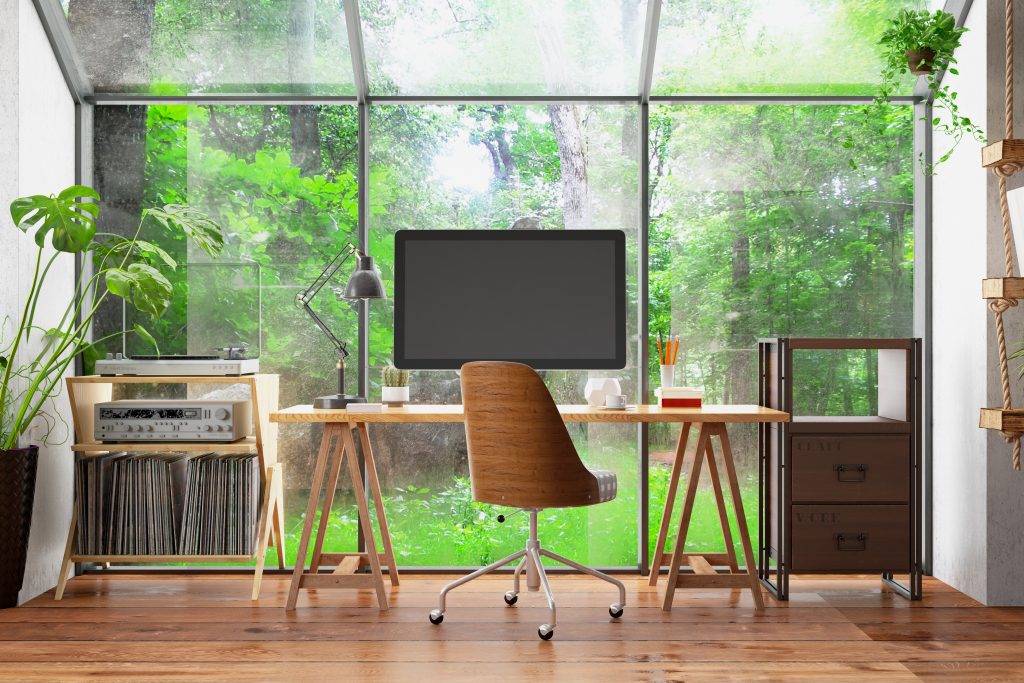 At a minimum, employers should provide a health and safety checklist, which addresses topics such as:
a safe workspace free from trip hazards (such as rugs, cables, small dogs etc),
a broadly safe environment including an exit, smoke alarms and a first aid kit (something more substantial than Dettol and the kids old Peppa pig band aids!),
suitable lighting and ventilation (consider how the lighting changes throughout the day and any glare on the computer screen), and
appropriate ergonomic requirements (more on this in a moment).
If necessary, employers can conduct virtual inspections of a homework environment via photos, video or video conferencing to avoid the need for a physical inspection. Depending on the complexity of the potential risks to be assessed, the services of a health and safety professional may need to be engaged.
A TWO-WAY STREET… SO HOW DOES THIS WORK FROM AN EMPLOYEE'S POINT OF VIEW?
Employees also have a duty to take care for their own health and safety which includes:
following procedures about how work is to be performed,
correctly using equipment provided by the workplace and ensuring that it is not damaged or misused,
maintaining a safe work environment – such as designating an appropriate work area, moving furniture to ensure safe access, providing adequate lighting and ventilation, and repairing any uneven surfaces or removing trip hazards, such as cords,
managing their own in-house safety, such as ensuring electrical equipment is safe to use, cords and plugs are not damaged and power points are not overloaded and installing and maintaining smoke alarms (great excuse for some renos but that's another blog!),
notifying the employer about risks or potential risks and hazards, and
reporting any changes that may affect their health and safety.
A WORD ON GOOD ERGONOMICS (AKA SETTING STUFF UP SO YOU DON'T GET HURT)
Sitting at the dining table on an uncomfortable chair hunched over a laptop just won't cut it. It can lead to chronic health issues. When setting up your homework station you need to consider the following:
The chair
This is one item where you need to invest to get the right product. An adjustable chair, with lower back support is highly recommended. The height of the chair should allow your feet to be flat on the floor or on a footrest, with your knees level with or lower than your hips. When sitting, your shoulders and arms should be relaxed, and you forearm parallel to the floor.
The desk
The work surface should be flat and large enough to fit all the items you require (computer, monitors, keyboard, mouse, wildly inappropriate themed coffee mug, speaker for sick tunes…you get the picture). It should be at a height that allows sufficient leg room. If your desk or table is too high, raise your chair height and use a footrest.
The computer screen/s
The top of your screen should be at eye level — you should not need to arch your neck or dip your chin while looking at the screen and it should be approximately one arm length away from you.
The keyboard and mouse
If using a laptop, a separate keyboard and mouse is a good idea. Your keyboard should be directly in front of you and you should have your wrists straight. If your forearms are not parallel to the floor, consider using a forearm support. Your mouse should comfortably fit in your hand and be positioned beside the keyboard.
A workstation self-assessment checklist, that can be provided by your employer, can help identify issues.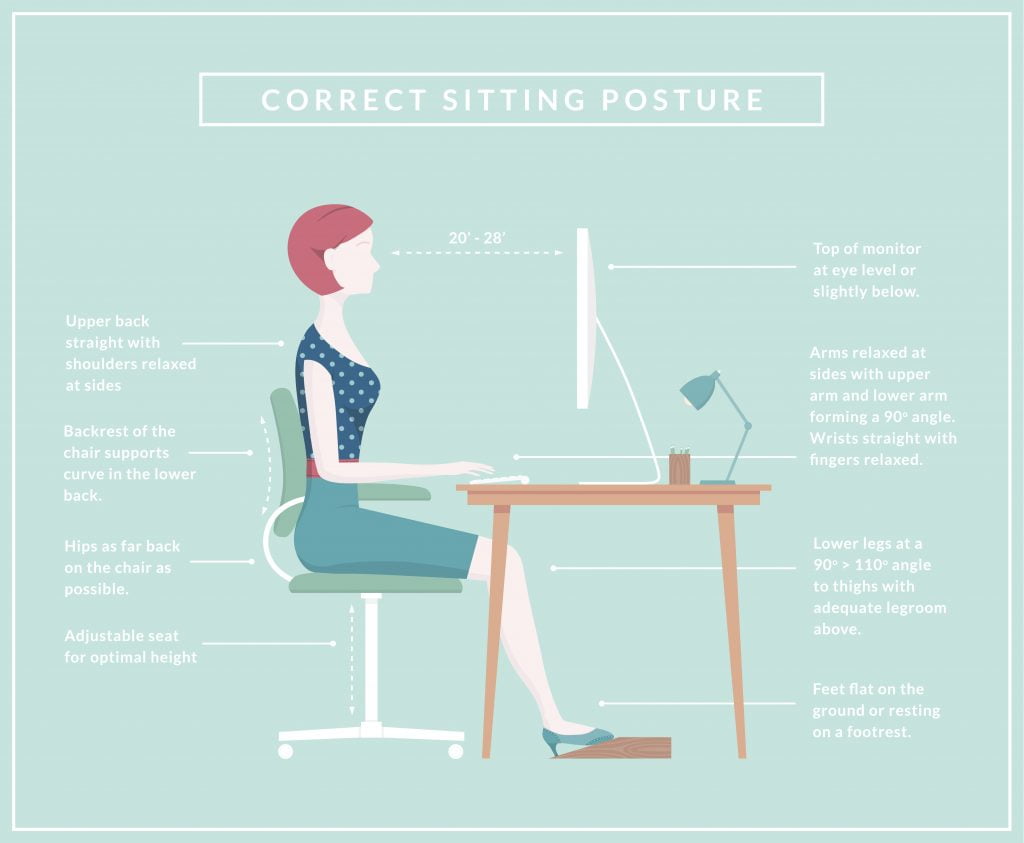 A WORD ON AESTHETICS (AKA STUFF THAT LOOKS GOOD)
OK,OK… while this not essential (can you hear the collective gasps of interior designers everywhere???), it certainly helps with your attitude if your workspace is a space that you actually want to be. So, bust out the colours and accessories that make you happy.
KEEPING AN EYE ON YOUR MENTAL HEALTH
Working from home can have psychological challenges that are different to those in an office or your regular workplace. These can include:
feeling isolated from or less supported by managers, colleagues and support networks,
changes to work demand, which can be higher (accompanied by feelings of being overwhelmed and fatigued) or lower (which can lead to boredom and feelings of being undervalued or frustrated),
reduced job control, such as not feeling like you have been consulted about the changes to your work,
blurred boundaries between home-life and work-life (what day is it again?),
poor environmental work conditions (cue the noisy kids or flat mates), and
changed family demands, such as home-schooling children and relationship strain (while we love our partners and kids, spending 24/7 with them has its challenges).
There are number of organisations you can reach out to if you are feeling anxious or uncertain, including:
Lifeline Australia
Beyond Blue
Headspace
MensLine
Mindspot
Working from home is about physical distancing, not social isolation. Good communication between employers and employees is crucial. Setting realistic and clear instructions on workloads, roles and tasks, monitoring work levels and checking that work can be successfully completed from home without creating any additional safety risks and mental stress is key.
Remember, we are all in this together and by sticking together and thinking of each other we can make it out the other end (hopefully with a renovated home and new hairstyle!)