The influence of the hospitality industry on workplace design has been prominent over recent years. While the hospitality industry has also been reshaping, such as incorporating home elements into hotels, focusing on wellness and biophilic design, such transformations have also been apparent in corporate office design. Coming out of a tumultuous year for employees where they were forced to adapt to working from home, it's important to now consider how we can design inspiring, enticing spaces to bring people back into the office. There are a handful of hospitality trends that have been emerging within workplace design, and we are going to outline just a few. 
Social Spaces
Workplaces have evolved to be less traditional, and many offices are incorporating communal areas and waiting areas inspired by hotel lobbies and bars. These social spaces become the heart of the office, and are where employees gather to collaborate, conduct meetings, or share a meal. Creating a sense of community through open plan social spaces is not only beneficial to the employees themselves, but for the overall success of the company. Employers are constantly looking to drive their business objectives forward and stay ahead of the competition. A casual, comfortable environment can encourage collaboration and foster innovation. While structured settings are still important, there should always be a balance. A café, coffee bar, reception area or lounge areas can be utilised this way. By opening these spaces up for employee use, you end up with more usable space back in your floorplan and can help project your brand and culture in a unique way.
Central Working's co-working space in Reading, England was designed as a creative, welcoming and flexible space tailored to the needs of start-up enterprises. The design combines office areas suited to different styles of working with communal lounges, breakout spaces, meeting rooms and catering facilities. Unlike typical corporate offices, the layout of the working areas needed to be fluid and dynamic. Walls, partitions, and furniture had to lend themselves to reconfiguration, allowing occupying businesses to expand organically. The communal spaces had to be distinctive and inviting, both to impress potential members and encourage existing ones to meet, chat and support each other. We love the outcome of this dynamic space, which perfectly portrays the way designers are interpreting social spaces in the workplace.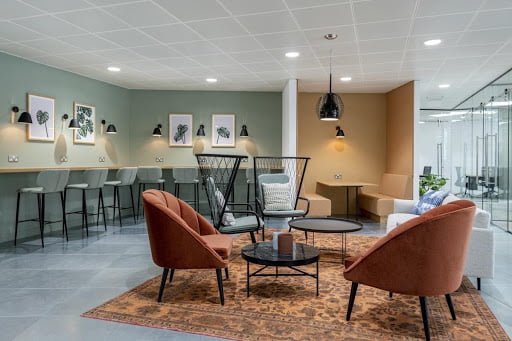 Bespoke Design
Long gone are the days of cookie-cutter cubical style offices. Just as boutique hotels and destination resorts are reflective of the cultural fabric of the places in which they are located, the vibe of the hospitality-influenced workplace should embody the unique nuances of a company's culture, the surrounding city context, as well as the employees who work there. By curating more holistic environments that bring together space planning, architecture, lighting, acoustics, materials, texture and even objects, the design of the workplace can feel like a favourite restaurant or hotel that you want to return to again and again.
A great example of a workplace that embodies the company's ethos to inform its interior design is the Goop Headquarters in Santa Monica, California. Goop, a modern Women's lifestyle brand founded by actress Gwyneth Paltrow, is a company founded on connection, curiosity, and wellness. Rapt Studio designed their new, light-filled headquarters in Santa Monica to preserve the buzz they'd maintained in close quarters while giving big ideas room to roam. Because Paltrow thinks of Goop as a family and prioritizes the wellbeing of the entire company, the space was designed to feel like home.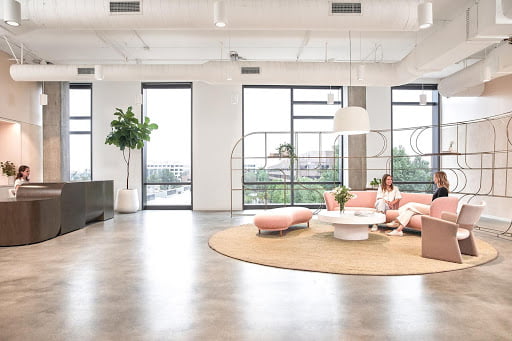 A custom reception desk by North Hollywood-based Artcrafters welcomes visitors to the space. Sleek and sculptural, it mimics the curved forms in the company's name. Adjacent, a wide, rounded metal screen fabricated by Bayly Art wraps around the room. Sweeping curves emerge again in larger architectural moments and are echoed in small furniture details – gestures that guide people through the office and create an intrinsic flow. The colour palette – soft, warm, and inviting – is equally pleasing to the senses.
A high level of transparency within the space and between teams supports open communication and productive collaboration, ultimately creating a culture of empowered partnership. Through intentional design, this workspace catalyses mindful interactions and sparks everyday experiences rooted in clarity and purpose. It unites the goop community and allows the company to continue innovating as thought leaders and culture changers. Synthesizing goop's essence and clean, tasteful style, it caters to mind, body, and spirit, inspiring employees to not only work well but live well too.
Wellness Focused 
Wellbeing has become a global movement. It is fast becoming a status symbol among consumers, who continue to prioritise their physical and mental health, and design trends are evolving in line with shifting and ever-nuanced demands. This evolution in holistic awareness has led to the application of wellness design in hotels and resorts, and these changes have carried over in workplace design in recent years. Wellness design targets the development of architecture and landscape, which aims to improve people's mental health and wellbeing simply by being in the property. There are numerous ways in which architecture and design have been found to enhance the wellbeing of occupants, notably through materials, lighting, air quality and the incorporation of nature.
Just as favourite restaurants or resorts curate emotional responses, experiences and memories, so too can workspaces. Changes in volume, colour, texture, lighting and even enclosure can all influence the kind of energy and dynamics of a workplace environment. Anticipating and mapping these to provide a palette of options for the inhabitants of today's office space can make sure that when stress levels get high, a place to destress and find some relaxation is always within reach — without needing to leave the office or go on a vacation to find it. Sleep pods, in -house massage rooms, and yoga studios are just a few of the wellness-focussed design features to be considered in your space to improve employee morale. 
A wonderful example of wellness-centred workplace design is WOOD co-working space in Lisbon, Portugal. Combining the flexibility of shared workspaces with the amenities of members clubs under the motto "work is good", WOOD was conceived as a premium co-working space for Lisbon's freelancers, start-ups, and other nomadic professionals. 
Spread over eight floors, including 45 private offices, 5 meeting rooms, 12 meeting boxes and 7 phone booths for private calls, as well as two floors of open-plan offices, the facility is rich in amenities that cater both to members' professional requirements and their sense of well-being. The stunning space also features a gym with regular yoga classes, electric bikes for short trips around town, a beauty salon and a wellness centre offering everything from Ayurvedic therapies and meditation classes, to relaxation massages, aromatherapy and reflexology sessions – all with the aim of enhancing members' productivity and balancing their professional and personal life.
With the right hospitality-inspired design strategy in place, the workplace has the ability to inspire collaboration, wellbeing, and connection. As we emerge from a difficult time of disconnect, it's important to consider how design can help bring people back together, and workplace design is just one way to do so. If you are looking for help with an upcoming workplace design, reach out to see how we can assist!