As designers, understanding the fundamentals of acoustics is paramount in designing a comfortable, functional interior. Acoustics have a profound impact on the way we experience any space, and are particularly important in commercial spaces such as restaurants, offices, and schools, where the functionality of the space is reliant upon effective acoustic performance. Acoustics of a room should be designed along with the interior of the room and never taken for granted as an afterthought. The primary purpose of acoustic design is to manage the sound within the space effectively, and as a result, the acoustics of a room should be considered at the start of the interior design process. In this blog we are going to outline some of the ways to (stylishly) consider the acoustics of your space, and some resources to check out in the process.
Spatial Planning:
More than just sound-absorbent finishes and furniture, room configuration and layout can help to control the flow of noise throughout a space and lower the reverberation time. Where possible, it is advisable to configure spaces to avoid parallel hard surfaces. When constructed parallel, hard surfaces increase echo and reverberation. Hard surfaces can also direct unwanted noise to other areas. If left untreated these surfaces become acoustic reflectors that increase noise and lower speech privacy.
Ceiling Treatments:
Statement ceiling treatments are an amazing way to elevate the design of your interior while simultaneously improving the acoustics of the space. One of our favourite products is the Ecoustic Sculpt™ range by Instyle. This award-winning, acoustic drop-in ceiling tile system is available in a range of striking designs, from understated simplicity to dramatic sculptural shapes, for new and existing spaces. The unique patented ceiling tile system achieves a high level of acoustic performance due to its shape, construction and raw materials.
The suspended profiles are made from acoustic PET panels and a black acoustic mesh backing to enhance sound absorption, which is ideal for architectural installations where reverberation control is critical to the comfort and amenity of the room. Ecoustic Sculpt™ achieves between NRC 0.65 – 0.95 and αw 0.7 – 0.82, with an airgap. A slim profile Ecoustic® Infill is available to significantly improve the low frequency absorption.
We recently used the Ecoustic Sculpt "Peak" as a key design feature in a workspace project and were incredibly impressed by the structural interest it added to the space. Inspired by the striking forms synonymous with architect Santiago Calatrava, Peak is a dramatic ceiling tile design that features triangular blades with peaks transitioning from each end of the tile to create visual movement through shape and shadow. Peak is available in 1200 and 600 tile and 12mm blade profile thickness.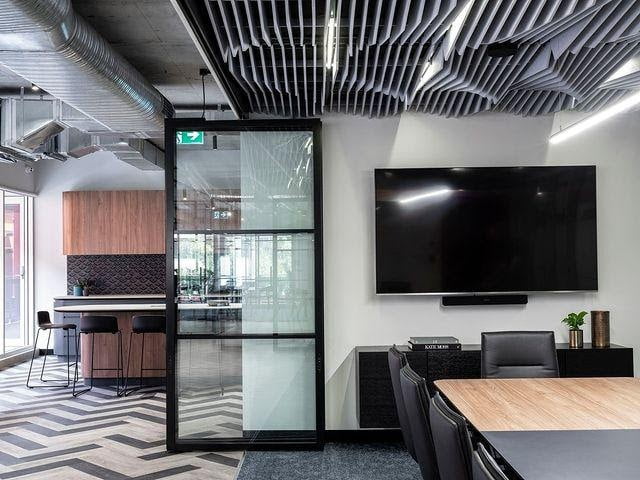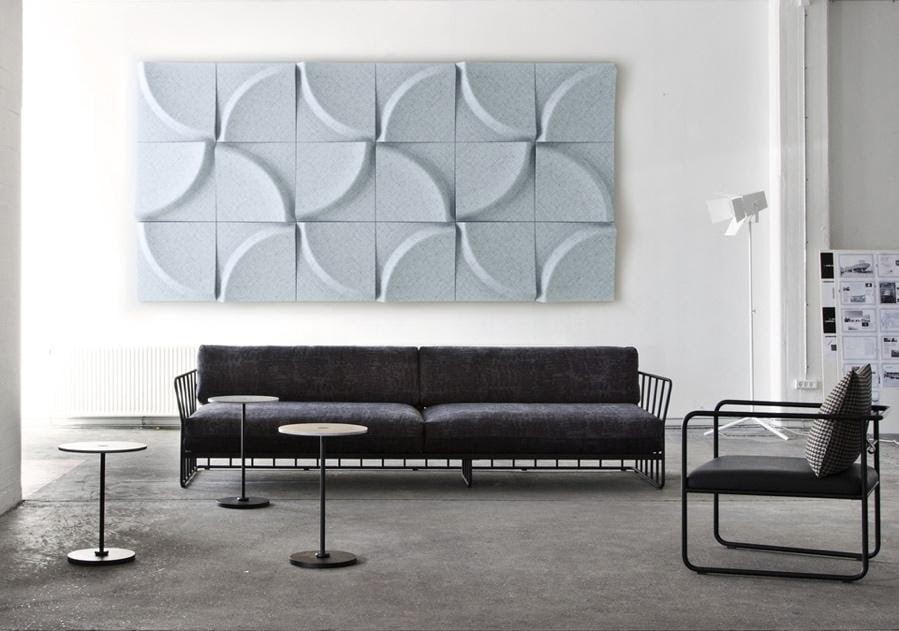 Wall Panels:
Acoustic wall panels have the ability to double as both a functional element of your design, and also improve the overall aesthetic of the space. There are many companies pushing the boundary of acoustic panel design to create unique, attractive solutions for commercial spaces. One example we are excited to share is the Gaia range by Stockholm-based studio, Blå Station. Gaia, meaning "Mother Earth," is a sound absorber with four symmetrical pieces representing the four elements: fire, earth, wind and water. The four elements can be combined in thousands of different ways with an infinite range of possible combinations. Gaia gives the room the best sound quality while creating a colorful and inspiring ambient.
Starting from the inside with the Polyester form felt which is the foundation of the sound absorbers Arc, Gaia and Ginkgo. The form felt not only provides excellent acoustic properties but is also an environmentally sustainable material that consists of an average of 50% recycled plastic. To further reduce the use of plastics, there is now the option where the Polyester form felt is mixed with 30% of the renewable material Hemp fibers. The hemp material also gives the product a completely new and exciting expression, while maintaining the acoustic properties.
Gaia makes the process of designing your acoustic wall paneling fun and seamless with their online Wall Planner. All you have to do is simply enter the wall measurements and then choose what colors you like. The number of Gaia and the fabrics are collected in a list and you can easily print a drawing that can be helpful during assembly.
Flooring:
The type of acoustic flooring solution you choose for your design is largely dependent upon the use of the space. For example, while carpeting might work perfectly within a meeting room, it might not fit the aesthetic you are going for when comes to restaurant design.
Carpet and carpet tiles are great natural attenuators of noise for a room. They are soft, so they do not create noise, they are also great for absorbing structure borne noise, which is is noise that occurs from the impact of an object hitting a surface, like heavy footsteps falling against a floor. Luxury Vinyl Plank (LVT or LVP) is another alternative if you are going for a timber – look surface, as they are soft and flexible compared to other types of hard flooring.
One of our favourite places to source flooring for commercial projects is Australian-based Tarkett. Tarkett is a world leader in innovative flooring and sports surface solutions that meet design and functional requirements in multiple market segments: healthcare & aged care, education, retail shops, hospitality & leisure, workplace, and more. Tarkett offers an extensive range of products including vinyl rolls, luxury vinyl tiles and carpet. Committed to making a positive impact on people and the planet, Tarkett is present in more than 100 countries, creating people friendly living spaces worldwide that combine wellbeing, health, performance, and design.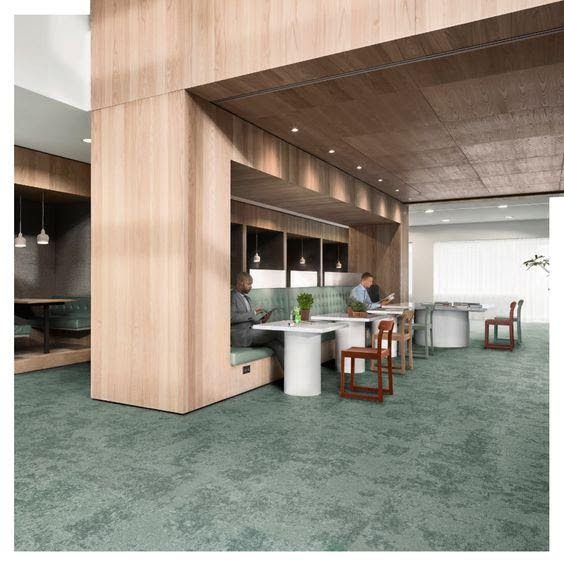 When it comes to creating a comfortable, attractive interior, acoustics should never be considered an afterthought. When considering how to approach this (sometimes daunting) element of design, it's important to note that there are a handful of design-driven solutions out there that can help elevate your design and improve the overall experience for the end user.