As organizations look to returning to in-person work arrangements, it's important to consider new incentives and design elements to improve the office environment. Displaying art in the workplace can elevate employee performance, mood, and physical well-being, as well as bolster interpersonal bonds between employees and clients. Dozens of research studies conducted over the past 10 years have identified myriad ways — from the practical to the unconscious — that installing
thoughtfully-chosen art in the workplace can improve employee experience and achievement, and help to communicate the right message to guests. Amidst many options for addressing branding and company culture in the workplace, art can help communicate key brand messages in a non-verbal way. With innovative developments in lighting, furniture, and fine art design, there are so many unique ways to infuse art into your work space aside from hanging a few photos on the wall, and we are going to outline just a few.
Lighting
Lighting has a profound effect on interiors in both functional and aesthetic ways. More than just a functional design element of interiors, there are many designers out there pushing the boundaries of lighting design to create stunning sculptural pieces that can truly create a "wow" factor in your space. One husband and wife team that recently caught our eye is the duo behind New-York based design studio, Pelle.
Pelle drew inspiration from the technique of Argentine-Italian artist Lucio Fontana, most widely known as the founder of the Spatialism movement. Like Fontana, Pelle sliced through boldly coloured canvases contained in thick oak frames. Pearlescent light bulbs are inset within the incisions, illuminating the textured layers of the surrounding painted surface to create an expansive field of light. The studio intends for the series to be displayed with the same respect and appreciation given to a piece of fine art, with the floating timber frames eminiscent of the style in which mid-century masterworks are presented within museums and galleries. The Incise Paintings bring an imaginative and on-the-nose 'artistic' approach to lighting, encouraging a renewed perspective on its expressive potential within a space.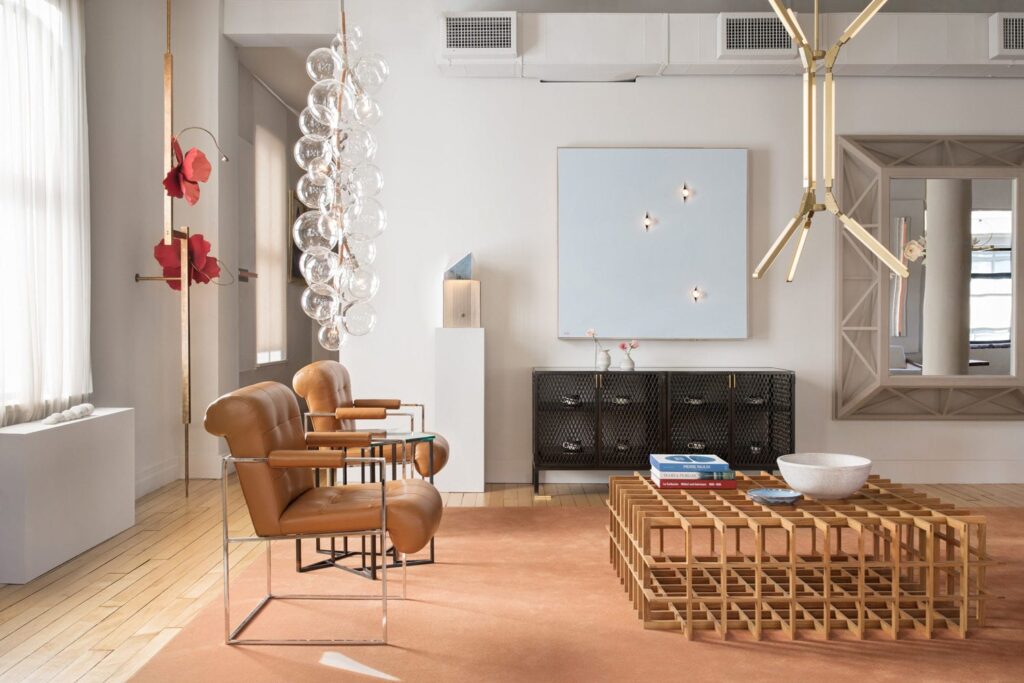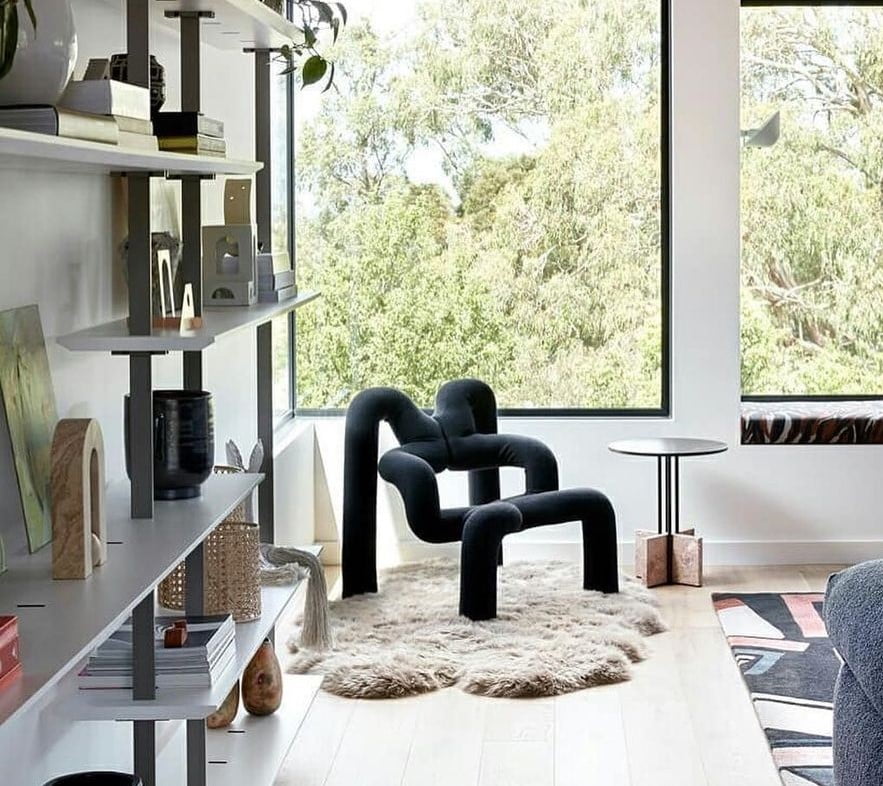 Furniture
Whether you are after a custom designed piece or one you scrolled past on Instagram that you simply couldn't resist, now more than ever we are seeing furniture designers blur the lines between art and function (in the best way). Unconventional forms and materials have continued to evolve over the past few decades, producing some of the most unique and unexpected pieces of furniture that have now taken the stage and set the bar high for furniture and product designers.
A classic example that you've more than likely seen amongst your feed that stands the test of time is the eccentric Ekstrem Chair designed by Terje Ekstrøm. A throwback to the eccentric 80s, the unexpected geometrics allow you to sit forward with feet on the ground, sideways with legs calmly placed on the armrests, or completely backwards with the front of the torso against the chair's back. The 'Ekstrem' is an ideal piece to spice up any interior.
The Varier 'Ekstrem' chair is an unlikely seating solution that will provide guests with a comfortable spot to rest, while also working to enhance the overall aesthetic of their space. The chair is constructed with an internal stainless steel frame that has been covered in a polyurethane foam in order to give it a touch of softness.
Instillation
Investing in an unforgettable art instillation for your office can create a real point of interest in your space and help boost company morale. One stunning example that we recently stumbled across is the SOFTlab installation in the Behance HQ in New York City. When asked by Behance to design an installation for their new offices in NYC, local-based studio SOFTLab decided to add a little colour to the mostly white-finished interiors. The office space spans two floors connected by a central staircase. The connecting structure became the ideal site to produce an installation that extends to both floors and can be seen from anywhere in the office. The art piece acts as a kind of three-dimensional stained-glass window that casts coloured light throughout the space.
The installation is made of a laser cut mylar net that acts as the overall structure which was then clad in laser cut panels of photo gels of various colours. The colour spectrum was designed to transition between the main brand colours, with some secondary colours found on their brand palette mixed in to give the installation a more vibrant spectrum.
This translucent sculpture not only creates a major "wow" factor in the Behance HQ, but also helps bring the brand to life in an unforgettable way.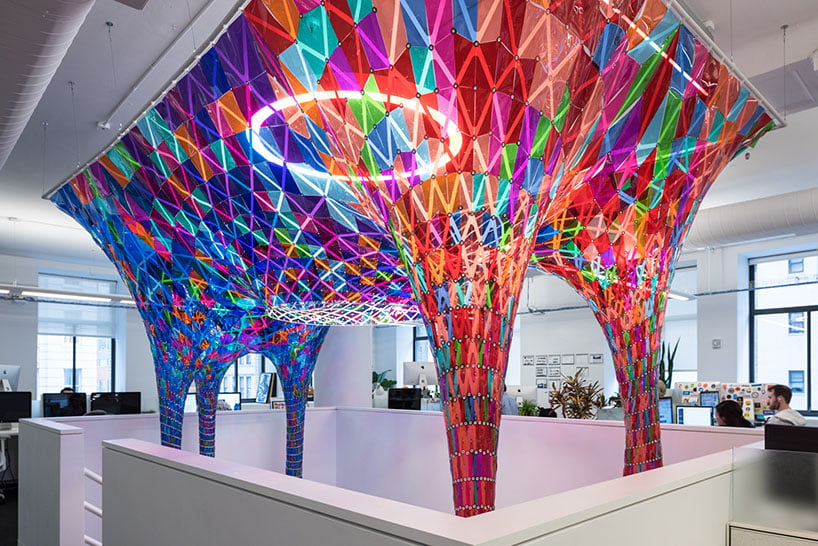 Rugs
Creating a floor feature with a standout rug is another unique way to bring art into your office space. One company leading the way in contemporary custom designed rugs is world-class textile design firm, Tappeti. We are lucky enough to collaborate with them on an upcoming project and have been so impressed by their creative process and ability to help bring our vision to life.
The brand's story began when the company's founder, Karinna Gobbo, identified an opportunity to start a company that provided designers and architects a way to enable their vision for textiles and furniture by offering a place where they can produce something unique, high-quality that was not available in the commercial space. Her vision took off in 2006, and Tappetti has been creating statements in luxury and creative expression ever since. Each custom piece is the result of a symbiotic fusion of client goals, designer vision and Tappeti craftsmanship.
Quality and innovation are core components of their brand ethos, and they are dedicated to pushing the boundaries on fibre usage and design, keeping them at the forefront of the industry. Their flexible approach helps to produce the ultimate design solution for the customers and collaborators, and work with designers from all over the world to bring their visions to life. Constantly inspired by global trends, fashion, interior design, travel, architecture, and nature, each Tappeti rug is a result of creative expression; representing an individual's personality or corporate brand by providing complete customisation of colour, high quality materials, and design.
Fine Art
At More Than Space we feel strongly about supporting local talent, and one way to do so is by weaving local art into our designs. When it comes to office design specifically, displaying works of art that are unique to the office's location is a great way to connect to its surroundings and local community while simultaneously improving employee wellbeing and morale.
In a survey conducted by the Business Committee for the Arts and the International Association of Professional Art Advisors of more then 800 employees of 32 companies that displayed art in the workplace, 94 percent of respondents agreed that art enhanced the work environment; 78 percent said that it contributed to reduced stress; 64 percent saw increased creativity and productivity; and 67 percent said that it enhanced morale. As a result, art should be part of any discussion regarding health and wellness initiatives in the office.
One of our favourite places to source one-of-a-kind pieces for our projects is Curatorial + Co. Curatorial+Co. showcases accessible, one-of-a-kind and limited edition works by established and emerging artists and designers from across the globe in its online gallery, pop-up exhibitions and engagements by appointment. Curatorial+Co. creates a lasting connection between artists with individual collectors, interior designers and organisations looking to enhance their environment with original works. Presenting painting, drawing, printmaking, photography, sculpture, and ceramic works as well as multimedia and textile art pieces, the scope of the Curatorial+Co. collection is vast and inspiring, and all works are exclusive to Curatorial+Co.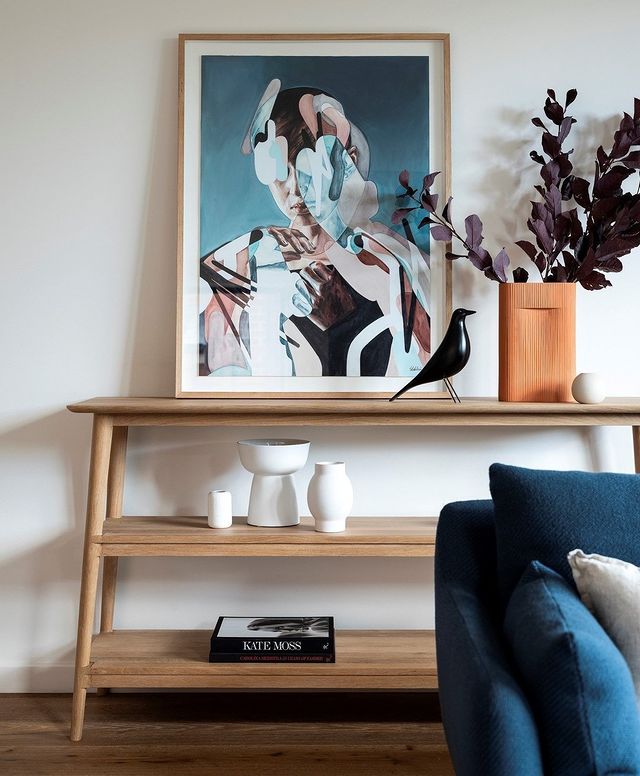 The impact of art in the workplace is profound, and can have a positive influence on employee morale, company culture, and overall productivity. It leaves a lasting impression both on the employees who see it day after day, and on clients who visit either once or frequently. Art is important in the branding of a company's image as well as creating a pleasant and inspiring environment. If you are looking for a helping hand to assist with the curation of art, furniture, lighting, and more for your next project, we are here to help! Get in touch to see how we can help you with art curation for your next project!